You may have read our previous rambling on Credit Union Marketing, which included several topics from using social media to
Pay-Per-Click (PPC) advertising. This time, we're taking things local! Read on to learn how to master local listings and Google My Business for credit unions.
A study by Search Engine Watch revealed 68% of searchers prefer and engage with the local search map results compared to the ads above them and the organic listings below. And while real-life proximity does come into play with local search engine results, it's not enough. You have to focus on optimizing and maintaining your business listing so Google pays attention and your credit union appears competitively when people search online. That's right — local Search Engine Optimization (SEO) is kind of a big deal. 
Google My Business (GMB) is a free, simple-to-use online tool that makes your local business more discoverable online in both Google Search and Google Maps. Once you have claimed your business, GMB allows you to manage and edit information such as your website URL, hours of operation, street address, a list of business services, and special offers/promotions. The more information you provide, the better you'll rank. 
So, how exactly will you maximize your Google My Business local listing as a credit union? Let's get started!
Verify Your Google My Business Listing
First thing's first: you need to claim your business!
According to Google, "verified businesses are twice as likely to be considered reputable by users." Verification also protects you from someone else trying to claim your business as their own. Until you verify your business, you won't be able to edit any of your information on Google. The process is painless and consists of creating an account at google.com/business, then requesting a postcard to be mailed to your physical business address with a special code. Once that comes in, you can claim your business and get started on your profile. If your credit union has multiple branches, be sure to claim every location and create/maintain separate listings for each one. Learn more about how to verify your business on Google here.
Complete Your Full GMB Profile
As mentioned earlier, Google's local results favor businesses with the most complete and accurate information. Filling in all the requested information accurately also ensures that potential members will be able to find everything they need about your credit union. 
Basic profile information to complete and maintain includes: 
Business name (formatted consistently with your other online directories)

Business description

Your logo (profile photo)

A cover art image (branded consistently with your website)

Website URL 

Operating hours 

Holiday closings

Phone number

Street address 

Links to other social media properties (Facebook, YouTube, Twitter, LinkedIn, Instagram, and any others)
Once you have all the basic information filled in, it's time to add some high-quality photos to your listing. These, along with an awesome description, will help tell your story and show potential members what you have to offer. You can also upload videos to your GMB, which helps paint an even more detailed picture of what your credit union is like.
Optimize your GMB Description with Keywords
Your Google My Business description is not only a good place to tell your credit union's unique story, but also a great opportunity to include some keywords and deepen your local SEO. As with anything, avoid the temptation to jam-pack it and instead optimize your description with strategic keywords while keeping a natural, human voice. Another best practice is to avoid using industry terms, and instead put yourself in the mind of your potential members. What would they search for?
Choose the Right Categories and Services for Credit Unions
When selecting categories for your GMB listing, you'll start with one primary category, like credit union. Below that, you can select 5 additional categories. Relevant options to include here are ATM, federal credit union, and car finance and loan company. Make sure to also enter all the services your credit union offers in your GMB listing.
Collect Google Reviews
Word of mouth is still king, and it now comes in a different, even more powerful form — online reviews! Not only do potential customers read reviews before deciding to check out your business for themselves, but reviews also play a role in how you rank in local search results. Come up with a plan to encourage happy members to leave a review on Google. Making it as easy as possible for them will lead to more reviews! One idea is to send out an email with a direct link for members to write a review. You could also have your tellers encourage members who visit the branch(es) in person, especially after there's a positive interaction. And when the reviews come in, don't be shy… respond to every review and include keywords in responses when possible.
Publish Posts to your Google My Business Page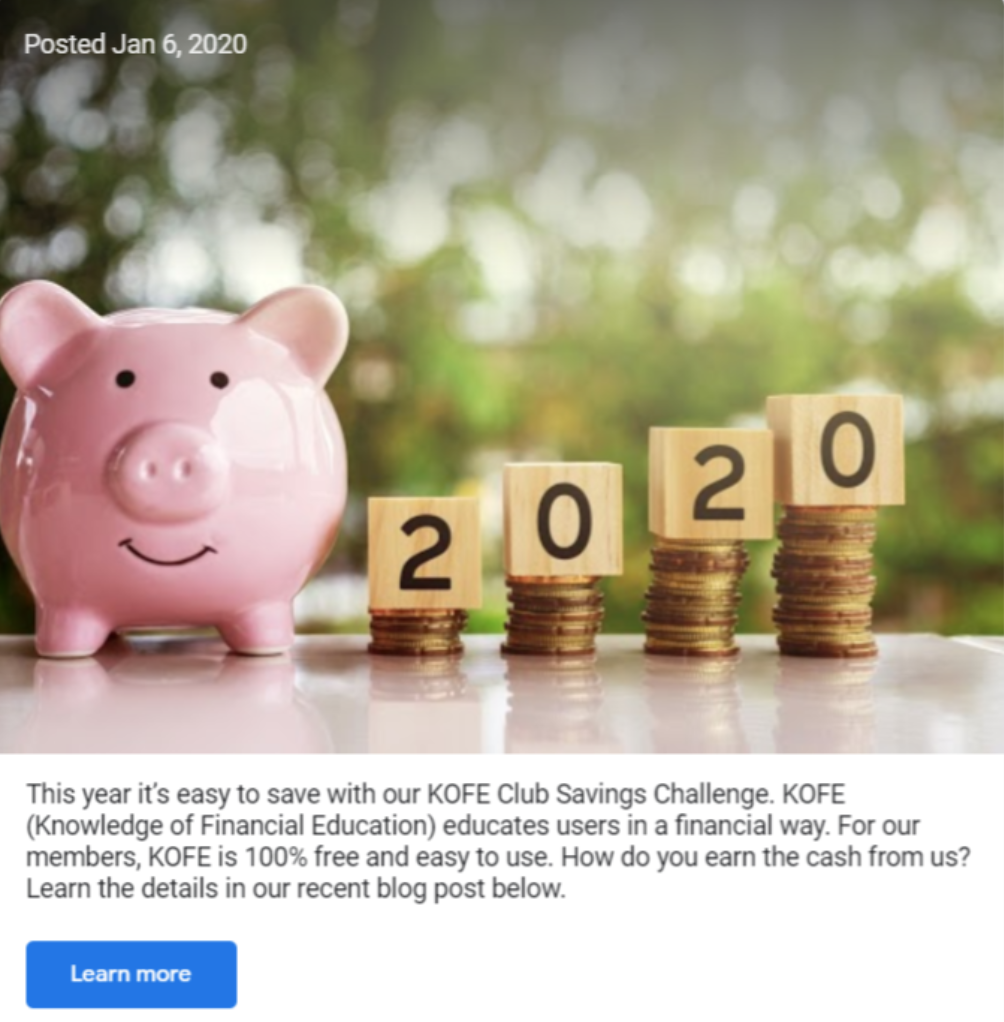 Posting fresh blog content to your website as often as possible is a great practice, but we also recommend posting to your Google My Business page. These posts will show up underneath your business listing in search results. Use this to link to blog posts, and highlight upcoming events and current promotions. Remember to keep it up-to-date.
Take Advantage of the Questions and Answers Section
The Q&A feature on Google My Business is often overlooked or missed entirely, but is another secret weapon for leveraging Local SEO for your credit union! Keep an eye out for any questions that may come in externally, but even if they don't, start coming up with some yourself. That's right, you can ask yourself questions and answer them! This is your opportunity to shed light on common FAQs and provide potential members with even more useful information about your credit union. It's also another spot you can include keywords when appropriate.   
Learn more about our credit union digital marketing and development services here.
Ready to take things to the next level and partner with our team of credit union digital marketing experts? Let's chat!