Once you have laid the foundation of your website and publish new content regularly, it is essential to conduct periodic content audits. Running a content audit will help you discover which pages are performing best, where your visitors are coming from, which pages no longer exist, what is affecting the speed of your site, and more. This content audit checklist will allow you to gain the most insights into your website and help you find areas of improvement for optimal results. 
Before we get into the steps for your website content audit checklist, let's go over some websites we suggest using for your content audit: 
Moz
Moz is the leading website in the SEO industry for resources, education, and website tools. Knowing SEO is critical for gaining traffic and rankings on Google and, ultimately, eyes on your website. Some of the steps from this checklist include resources within Moz. 
Google Analytics
Google Analytics will track multiple metrics throughout your site about your visitors — including where they came from and their behavior within your site. The longer your website has been connected to Google Analytics, the more information you can gather about the trends over weeks, months, and years. 
Google Console
Indexing, search queries, and crawling issues can be discovered through Google Console. Your pages must first be indexed on Google for them to rank. 
5 Steps for Your Content Audit Checklist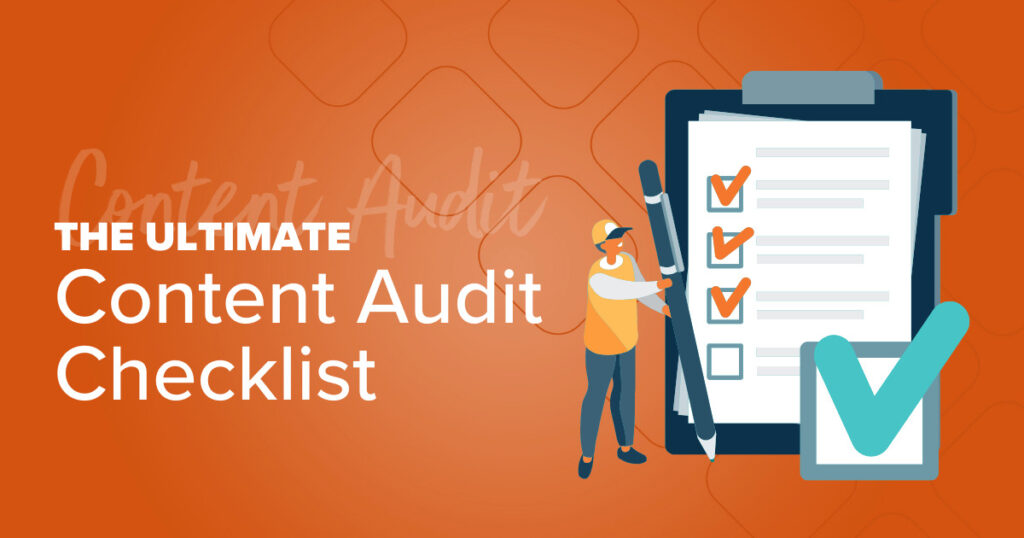 1.
Perform a Website Crawl
A Moz crawl report will show any issues affecting your website. Anything in red is categorized as a critical issue within your site, like a 4xx error page that no longer exists. Error pages should be removed or redirected to other pages within your website. Many website visitors will leave your page out of frustration when they are trying to visit a page and get a 4xx error message.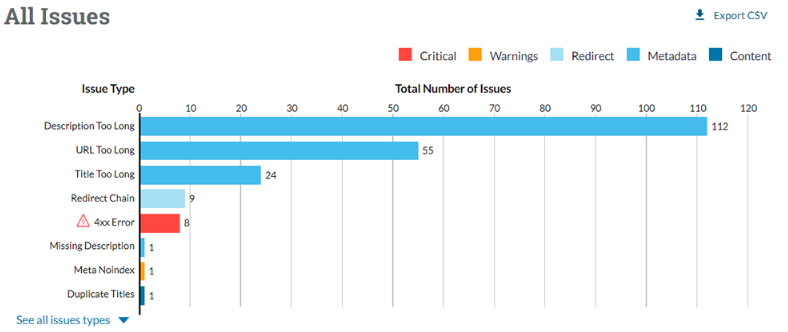 Moz's crawl report will also provide recommendations for improving your website's searchability. Some areas for improvement may be quick fixes but have lasting effects on your website's performance. SEO suggestions, for example, will help your website rank higher on Google, giving you more exposure when people search for related keywords within your page. 

2.
Find What Keywords Your Website is Ranking For
After performing a website crawl, the next step is finding what keywords are ranking on Google. Suppose you do not have any keywords ranking on your website. In that case, we suggest you do some keyword research on a tool like Moz and strategically place your keyword within your URL, title, first paragraph, meta description, image, etc. 
After reviewing which keywords are ranking, you can optimize your pages for those specific keywords to perform even higher on Google. For instance, if you have a keyword ranking on page 3 or 4 of Google, see what your competitors on page 1 are doing. Optimize that post (read our SEO tips for businesses), and provide excellent content that is better than what your competitors are providing. 
3.
Review Google Analytics Performance
An essential step of a website content audit checklist is reviewing your website reports in Google Analytics. Read this guide to Google Analytics reporting to make the most of your reports and metrics. If your website hasn't been set up with Google Analytics, you will want to create an account, which connects to your website so you can track the trends of your website visitors. 
Reviewing the trends throughout your website will help you determine which pages are attracting the most visitors, where your visitors are coming from, and the behavior of your visitors on your website (clicks to other pages, bounce rate, purchases, email subscribers, etc.). 


4.
See Which Pages are Indexed on Google
If you have done adequate keyword research and your website is still not ranking, it may be that your pages have not been indexed on Google. You can check index status, crawling issues, search queries, and optimization through Google Console. For more information on using their services, visit Google Console's Youtube Channel. 
You will want to ensure that your sitemaps and individual URLs are submitted through Google Console. Doing so will signal Google to crawl your website and pages and determine where it ranks. 
5.
Check Your Backlink Profile
Backlinks from established websites will help you get more visitors and increase your domain authority (DA) and page authority (PA). A website with a strong backlink profile shows Google that your content is valuable within your niche. 
It is important to earn backlinks rather than purchase them. Google has caught on to websites that purchase multiple backlinks to build their DA and will penalize them for doing so. 
Earning backlinks can be done organically by producing great content or by reaching out to other websites to ask them to link to relevant content that you have created. Make sure that your content is beneficial to their business and audience! 
Through Moz's website, you can review which domains have linked to your root domain, subdomains, and exact pages. Websites with a higher DA usually have a larger, more refined audience. If you have backlinks from higher DAs with a similar audience, more visitors will come across your page.
---
By following all 5 steps of the ultimate website content audit checklist, you can track and improve your website's performance. It is important to know that reaching your business goals through your website is a process, not something that can be done overnight. 
At Ironistic, we have content, WordPress, and SEO specialists that streamline the content audit process for your site, so you can stay focused on your business. Our team would love to partner with you. For information about how we can help your business reach your digital marketing goals, contact us now!